Things to do During Your First Week as a Social Media Manager
It's your first day as a social media manager for a new company. Where do you even start?
This question is a common one, but one that often goes unasked as people are worried about seeming inexperienced or making a bad impression when they start their new jobs. Really, it's a very reasonable question. Making a critical error would be far more costly than asking colleagues for help.
You can't just jump in and start Tweeting on behalf of a business you're unfamiliar with. Every company has a different audience, different needs and goals for their social media presence. At the same time, you want to show initiative and jump right into your new role.
Your first day or week at a new social media job should be spent doing a lot of listening and learning. You need to establish what works, what doesn't, and what goals you're trying to meet. To help you kick things off on the right foot, here are five things to do during your first week as a social media manager.
Audit the company's existing social media
Lifeguards are taught that the first thing you do when you find yourself in a potentially dangerous situation is to look for dangers (fire, wire, gas, glass, as the saying goes). While you won't necessarily have to worry about hidden dangers as a social media manager, the notion of first examining your surroundings before taking action is sound advice. In the case of social media, this will usually come in the form of a social media audit.

This audit will help you assess the current state of social media within your new company and help shape the goals you set moving forward. The audit will include:
Making a list of all corporate social media accounts, and evaluating their current performance

Determining who has access to all accounts, and centralizing permissions if necessary

Establishing all tools being used for social media and potentially centralizing social activities into one social media management dashboard

Establishing the process by which social media activities are requested and executed
An audit will really help you gain a foothold in your new role. You'll quickly learn what works and what doesn't, while familiarizing yourself with the business' approach to social media in the process. This will prove invaluable to you as you begin to shape the company's new social media strategy moving for
ward.
Listen to your followers, industry chatter
Assuming the business that you join already has some social media presence, one of the first things you'll want to do in your new role is to simply listen to their followers. Your followers are your best source of information and inspiration.
When you start at a new company, you may not know what kinds of content will resonate with your followers or what drives online discussions. Skim your follower list. Click on profiles and see what's being shared. See who regularly engages with your content and then examine what they're posting.
This is a great way to learn qualitative information about not only your followers, but your customers, including:
The sentiment around your brand or products

What features or products customers are looking for from your company

How you can solve your customer's problems
At the same time, you should seek out and follow relevant hashtags to see what general news and chatter is popular amongst people in your new industry. This includes competitors. If a competitor has more followers or engagement than you, see what they're posting and learn what you can from it. Create streams to track all of this information and check in regularly. You'd be surprised how much insight you can gain just by listening in this way.
Look back at their best performing content
You may not be in charge of creating content, but much of your job will be spent promoting it. If you have access, take a look at the business' Google Analytics. See what content from the blog or website has performed the best in the last year. Then, pull your social media analytics. Identify the posts and messages that have performed the best in the same period, and compare the two. Certain posts might work from an SEO standpoint but not on social networks and vice versa. You want to identify the posts that perform well in both areas and double down on those types of content moving forward. Don't be afraid to share your insight with the content team. You're both probably working towards the same goal, and even if you're not this type of coordination is mutually beneficial.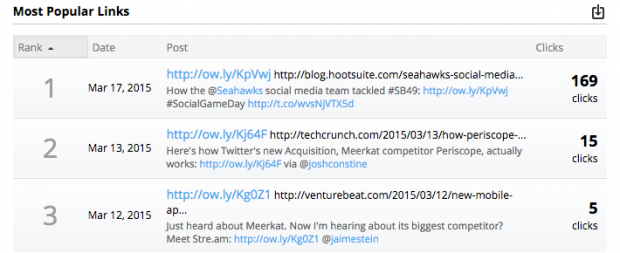 Looking at the best performing social media content will also offer insight into what type of messaging resonates with your audience. Look at the form of the Tweet or post (Where is the link? How long is the message?) and the language of the post (Was it humorous? Serious? Simple? Complicated?). Pull out the top 10 or 20 best-performing posts on each social network and put them in a document. You can reference these later for inspiration.
Then, do the exact same thing with their worst performing content. You can learn just as much from content that under-performs.
Talk to other employees about social media
Once you get an idea of what the business' social media presence looks like from the outside, it's important that you speak with your new colleagues for an insider's look.
Ask employees what they know about the company's social media. They may not know anything, and that in itself is valuable information. You'll learn what departments are totally disconnected from your corporate social strategy, and can start thinking about how to get them involved. In the very short team, you can at least ask them to follow your company accounts. Employees, after all, make the best social media advocates.
From the employees that are more familiar with your company's social media strategy, you should try and find out:
How often are employees outside of marketing are involved in social media activities? Do different departments run their own accounts?

Are staff encouraged to have personal social media accounts? Are they allowed to use them during work hours?

Are employees trained or educated about social media?

How do staff outside of marketing request social media support?
One of the biggest ways to make an immediate impact in your new role is by facilitating the process by which other employees work with social media. Identify ways to speed up the requests process. Plan training for staff so it doesn't seem so complicated. Identify ways in which departments not using social media could be using it to make their lives easier.
Talking to employees won't just familiarize you with social media at the company, it will familiarize you with your colleagues, an important first step in any new role.
Create a series of social media templates
Does the business you joined have templates built out for their social media strategy? What about for publishing? If the answer is no, an easy way to quickly make a big impact within your new company is to build out valuable templates that can be used again and again by your team.
A social media strategy template will keep your team focused on the goals you set, and will make it easier to shift your approach when necessary.
An editorial calendar template will help you track content being produced within the business, so you can plan out your social media content promotion.
A social media content calendar is the next step, gathering all social media messaging you'll be using to promote your content and engage users, and organizing it by date and time. The calendar may also help shape your editorial strategy, by showing you where there are holes and what themes you might be missing.
A social media image template will act as a quick reference of image sizes so that you can rapidly make new cover or profile photos for any social network profile you manage.
These are just some of the templates you can build out within your first week. Even if you're not filling them with content right away, these shells will quickly become an asset to you and your entire team as you take on more responsibility.
Social Media Templates to Save You Hours of Work
This is an updated version of a post originally published in December 2014.
Whether it's your first time running social media for a company, or you're just looking to boost your online profile, social media templates will save you valuable time and effort. And we've created six to help you on every leg of your journey—from planning and message scheduling, to publishing and results tracking.
1. Social Media Strategy Template
A social media strategy will bridge the gap between where you are in the pursuit of your social media goals and where you want to be.
Use this template to create a social media strategy that will guide you in your online activities. Answer the questions in each step to establish what your goals are, how you will achieve them, and how you will measure success.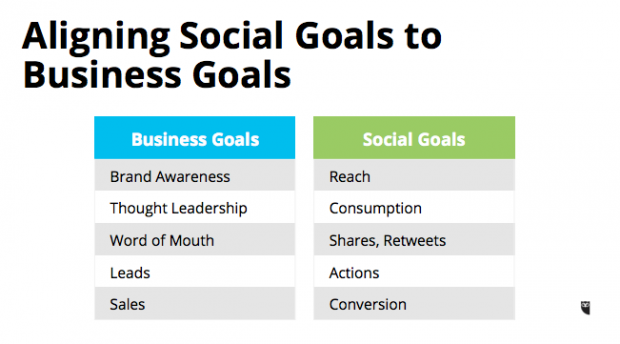 The social media strategy template teaches you how to:
Clarify your business' social media goals

Audit your current social media status

Create or improve your social media profiles

Develop your content strategy

Use analytics to track progress and adjust your strategy as needed
2. Social Media Audit Template
An important part of creating your social media marketing plan is conducting a social media audit. This audit serves to assess your current social media use and goals, and how they're working or not working. We've put together a social media audit template to walk you through the steps and help you conduct your audit more effectively.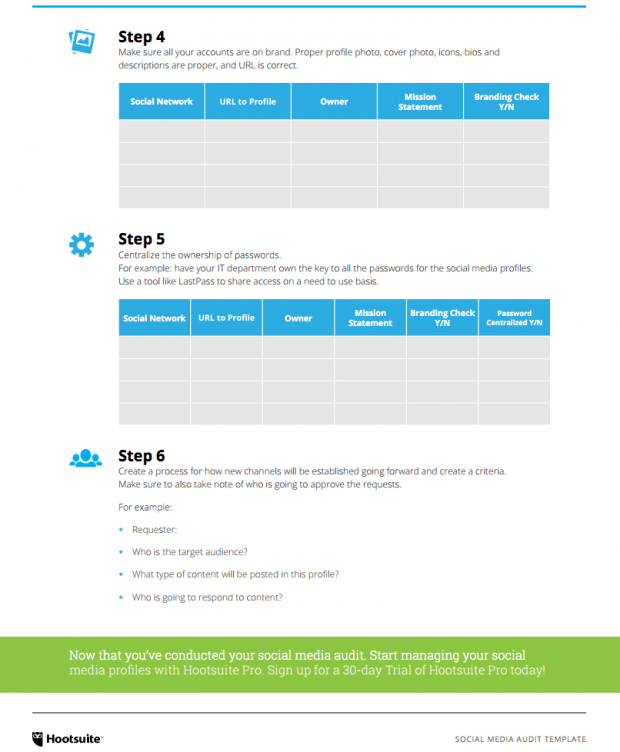 The template is comprised of six steps that will take you through your audit from start to finish:
Creating a spreadsheet of your social profiles

Finding other accounts that may be representing you or your brand

Creating a mission statement for each profile

Ensuring accounts are on brand

Centralizing ownership of passwords

Creating a process for how new channels will be established moving forward
3. Editorial Calendar Template
There are two important types of content calendars that a social media manager will almost always make use of. The first is the editorial calendar, which will gather all your content projects into one document to help you plan and schedule each release.
The easiest way to organize a content calendar is by using a separate 'sheet' within a Google or Excel Spreadsheet for each month. Activities can be broken down by day or hour, depending on the volume and cadence of your content plan.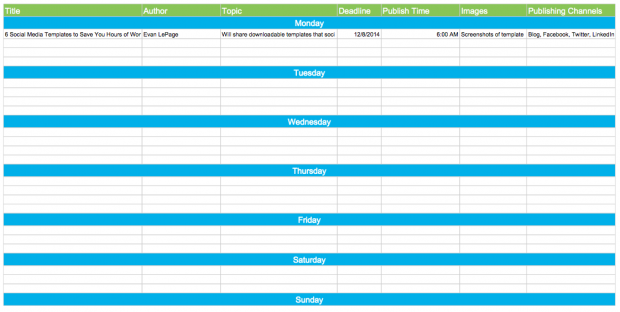 Your editorial calendar should include simple information about each of these projects:
Title or description of the content

Links to supporting documents, like content briefs

Author or writer

Deadline

Channels you will promote it on
The following is a very basic template of an editorial calendar. You should add columns or rows as required.
Download our editorial calendar template
Bonus:
Get the step-by-step social media strategy guide
with pro tips on how to grow your social media presence with Hootsuite.
4. Social Media Content Calendar
The second valuable content calendar is a social media content calendar. This should include all of the social media messaging you'll be using to promote your content, organized by date and time. Social media engagement can't be planned in advance, but social media promotion can be, which is where this calendar comes in handy.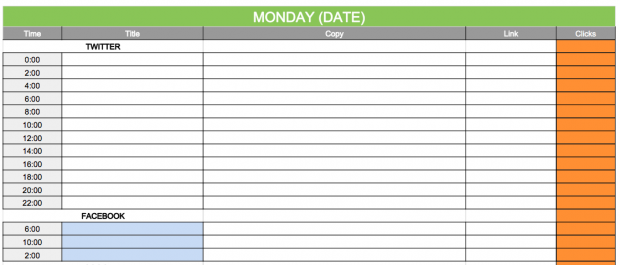 This calendar will solve some of the biggest issues that social media users face—continuing to post badly-performing content, ignoring certain accounts and overwhelming others, missing important dates or events, and holes in the content calendar.
Download Our Content Calendar Template
5. Bulk Upload Template
When you run your own business, it's hard to find time to publish Facebook or Twitter posts one-by-one throughout the day. To help save social media users valuable time, Hootsuite allows you to bulk upload up to 350 social media messages across social networks.
To do so you need to create a .csv file of all the social messages you'd like to upload, placed in a specific format:
Column 1: Date and time. The accepted DATE format is: mm/dd/yyyy hh:mm or dd/mm/yyyy hh:mm. Be sure to identify which format you are using when uploading your file. Times must be set in the future (at least 10 minutes from upload time) and should end in either a 5 or a 0, i.e. 10:45 or 10:50.
Column 2: Your message. For Twitter there is a limit of 140 characters, including the URL (which reserves at most 23 characters)
Column 3: URL (optional): The full URL you want to include in your message
Bonus:
Get the step-by-step social media strategy guide
with pro tips on how to grow your social media presence with Hootsuite.
6. Social Profile Image Sizes
Social media profiles are often your first opportunity to make an impression on new prospects or customers. And the pictures on these profiles are the first thing people notice—often coming to serve as the visual representation of your brand online.
You should always strive to have images fall within the recommended dimensions of each network. Why? A square is a square, right? Well, you never know when profile images will be posted elsewhere on social.
Here are templates showing the optimal dimensions for profile images on each major social network:
Facebook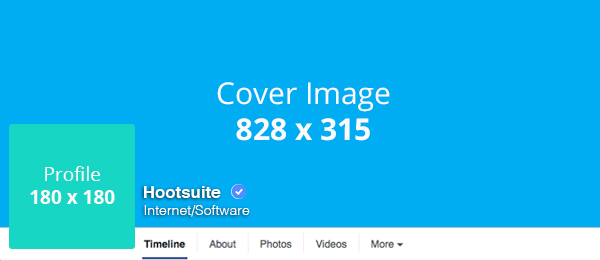 Instagram

Twitter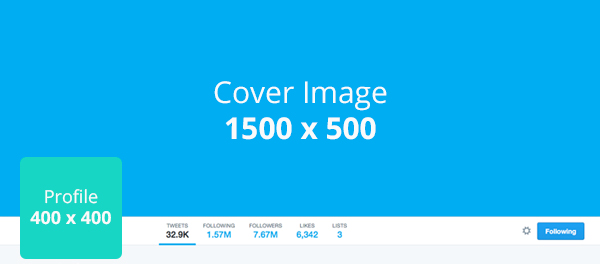 LinkedIn Profiles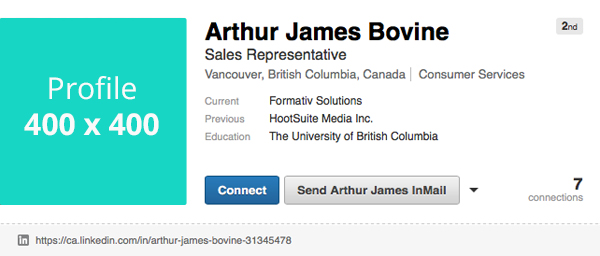 LinkedIn Company Pages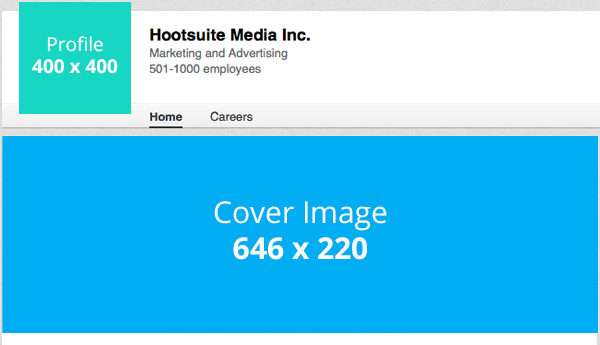 Google+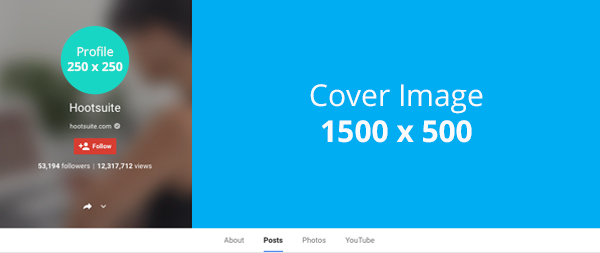 With these social media templates you're one step closer to being a social media pro. Start using Hootsuite and take your skills to the next level.