Priebus on immigration ban: 'perhaps we need to take it further'





#OyVeyDonaldTrump's executive order banning the citizens of seven countries from entering the United States is supposed to protect the nation from "radical Islamic terrorists".

But conspicuously, the order does not apply to several other Muslim-majority countries that suffer from well documented problems with terrorism.

On Friday, Mr Trump signed the order temporarily suspending the entry of people from Iraq, Syria, Sudan, Iran, Somalia, Libya and Yemen into the US for at least 90 days.

Mr Trump's executive order also suspended the US refugee program for 120 days and ordered his administration to develop "extreme vetting" measures for migrants from the seven countries.

However, Egypt, Turkey, Saudi Arabia, Pakistan, the United Arab Emirates (UAE), Indonesia and Afghanistan were not included on the list, sparking speculation as to why. Was Mr Trump taking potential diplomatic fallout into account, or did he fail to include those nations because of his own business ties?

THE DOUBLE STANDARD

According to the American public policy institute Cato, Americans' fear of foreign terrorists is over-inflated, as the chances of being killed in an attack committed by a foreigner are about one in 3.6 million per year.

In the past four decades, 3024 people have been killed by foreign terrorists on US soil. The September 11 attacks, perpetrated by citizens of Saudi Arabia, the UAE, Egypt and Lebanon, account for 98.6 per cent of those deaths. None of those countries are on Mr Trump's list.

In fact, in that period, no American has been killed on US soil by anyone from the nations named in his executive order.





Not welcome in the USA.Source:Supplied



The countries conspicuously excluded from Mr Trump's ban.Source:news.com.au

By contrast, several of the countries the president excluded are considered hotbeds of terrorism.

Just days ago, the US State Department updated a travel warning for Americans visiting Turkey, warning of an increased risk to its citizens. The country has suffered a wave of terror attacks in recent months, including the New Year's Eve shooting at an Istanbul nightclub which left 39 revellers dead. Istanbul has been the target of many recent attacks by Islamic State and Kurdish extremist groups.

In December last year, 13 off-duty Turkish soldiers on a weekend shopping trip were killed and dozens more wounded in a car bombing. Dozens more people have been killed in other incidents in the past 12 months, including an attack which left 47 dead after a triple suicide bombing and gun attack at Istanbul's Ataturk airport in June.

Mr Trump's executive order also makes no mention of Saudi Arabia, despite the fact that 15 of the 19 September 11 hijackers once called it home.



29 Jan

Frank Luntz
✔ @FrankLuntz


Reminder: The 19 hijackers on 9/11 were from Saudi Arabia (15), the UAE (2), Egypt (1), and Lebanon (1)

None of those countries are listed. https://twitter.com/foxnews/status/825476891733794816 …


Follow

Frank Luntz
✔@FrankLuntz


The Boston bombers were from Russia, and 1 of the San Bern shooters was from Pakistan.

Neither country is listed. https://twitter.com/foxnews/status/825476891733794816 …
1:43 AM - 29 Jan 2017

322322 Retweets
331331 likes





Pakistan is not on the banned list despite a wave of terror attacks there, and long-running accusations that it's been a state sponsor of terrorism.

The San Bernardino massacre, in which 14 people were killed, was perpetrated by Syed Rizwan Farook, who is of Pakistani descent, and his wife Tashfeen Malik, who grew up in Saudi Arabia.

The Pulse nightclub attack in Orlando, where 49 died, was carried out by Omar Mateen, a US citizen of Afghan descent.

The Boston Marathon bombing was orchestrated by the Tsarnaev brothers, both of whom were Russian.



US shooter Syed Rizwan, who is of Pakistani descent and wife Tashfeen Malik, who grew up in Saudi Arabia, were responsible for the San Bernardino massacre.Source:Supplied

BUSINESS LINKS

Mr Trump has been accused of excluding certain countries from the travel ban because he has business interests in those territories.

Liberal watchdog group Citizens for Responsibility and Ethics in Washington is among those accusing Mr Trump of a conflict of interest.

It has filed a lawsuit that alleges Mr Trump is in violation of a constitutional provision that bans federal officials from accepting payments from foreign officials, The Washington Post reports.

The group's chairman, who is a former ethics adviser to Barack Obama, tweeted that the move was unconstitutional and pointed out the apparent hypocrisy of Mr Trump's order.




Follow


Norm Eisen @NormEisen


1/ WARNING: Mr. Pres. your Muslim ban excludes countries where you have business interests.That is a CONSTITUTIONAL VIOLATION.See u in court
2:49 PM - 26 Jan 2017

9,0169,016 Retweets
14,70414,704 likes





According to Bloomberg, the list of banned countries doesn't include Muslim-majority nations where the Trump Organization has done business or pursued potential deals. This includes golf courses in the UAE as well as two luxury towers in Turkey.

In a full list Mr Trump's perceived conflicts of interest, Bloomberg also revealed Mr Trump had business interests or ties with Egypt, Indonesia, Turkey and Saudi Arabia. In 2015, he registered eight hotel-related companies in Saudi Arabia and also has two companies in Egypt.

Pakistan and Afghanistan, both of which have suffered a spate of terror atrocities in recent years, also did not make the list.



President Donald Trump's executive orders have sparked backlash across the world. Picture: Alex Brandon/APSource:AP

REAL REASON BEHIND THE ORDER

Dr David Smith, of the University of Sydney United States Studies Centre, said the executive order was hypocritical in the extreme, and Mr Trump's strategy revolved around keeping America's strategic allies onside.

Dr Smith, a senior lecturer in American politics and foreign policy, said it wasn't in the US's interest for oil-rich Saudi Arabia, for example, to be included in the ban, despite it being the "land of beheadings" and having been described as "ISIS with borders".

Nations such as Pakistan were also a strategic military ally, he noted.

Dr Smith said Mr Trump's business interests were not the sole reason for the order.

"The fact that a lot of Americans have business interests in places like Saudi Arabia, the UAE and Turkey is another reason (along with military and political alliances) that these countries don't get included in travel restrictions," he said.

The seven countries listed in the executive order had long been regarded as terror hot spots under White House policy, but they were also, with the exception of Iran, "poorer" and not in control of their populations.

"The fact remains the UAE, Egypt and Turkey are relatively wealthy allies of the US," Dr Smith said.

"They tend to get exempt from things like this because the US doesn't want to cause offence.

"The cost to the US (from the seven) is small, so is something they can afford."



People attend an afternoon rally in Battery Park, New York, to protest Mr Trump's new immigration policies. Picture: Spencer Platt/Getty Images/AFPSource:AFP

'OBAMA DID THE SAME THING'

In a statement today, President Trump said America was "a proud nation of immigrants" and would "continue to show compassion to those fleeing oppression".

Mr Trump said his executive order did not amount to a "Muslim ban" and the countries affected had previously been identified as "sources of terror" by the Obama administration. He also pointed out that Mr Obama levelled a "similar" ban against refugees from Iraq in 2011.



View image on Twitter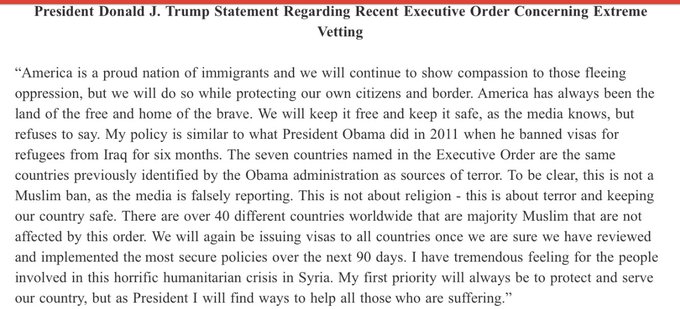 Follow


Zeke Miller
✔@ZekeJMiller


NEW: President Donald J. Trump Statement Regarding Recent Executive Order Concerning Extreme Vetting
11:37 PM - 29 Jan 2017

142142 Retweets
122122 likes





"This is not about religion — this is about terror and keeping our country safe," Mr Trump said today.

"We will again be issuing visas to all countries once we are sure we have reviewed and implemented the most secure policies over the next 90 days."

Mr Trump highlighted that there were at least 40 Muslim-majority countries that were not affected by this order.

Dr Smith said it was true that Mr Obama banned visas to Iraqis, but it was only for six months.

While the Obama White House, as did previous administrations, maintained a longstanding policy to identify all seven countries as terrorist hot spots, citizens from the other six nations were never banned from entering the country.

Dr Smith said Mr Trump's comments on Mr Obama were "misleading" because this ban is much wider in scope but also because it had also included permanent residents of the United States, which is totally unprecedented.

The Department of Homeland Security has now retracted that part.



Donald Trump's order restricting immigration to the US and puts an indefinite hold on a program resettling Syrian refugees has sparked reaction within the country. Picture: Genna Martin/seattlepi.com via APSource:AP

WHAT IT MEANS FOR AUSTRALIA

Dr Jiyoung Song, a director and research fellow at the Lowy Insitute's Migration and Border Control Policy Project, said Mr Trump's ban was hypocritical because it didn't apply to other hot beds of terrorism.

"Trump is delivering on his campaign promises to ban Muslim immigrants," Dr Song said.

"Some of those (orders) are temporary and some indefinite, but it's a completely discriminatory and racist policy."

Dr Song said while Australia had been given assurances that its refugee deal with the US would go ahead despite the executive order, it was now a question of how many would be accepted.

Under the deal reached with President Barack Obama last year, Australia agreed to take refugees from Central America if the US accepted a number of refugees in offshore detention centres. Dr Song said she expected the US wouldn't take any of the single men on Manus but would look more towards taking refugees of a Christian background or families.

"Malcolm Turnbull will save face as the deal will still go ahead, but the critical issue will be the number of refugees taken," she said.

'THE WORLD IS ANGRY AS IT GETS'

Last week, in his first interview since taking office, Mr Trump told US broadcaster ABC News he didn't believe his executive order would spark a backlash from the Muslim world.

ABC journalist David Muir questioned whether it was a Muslim ban, something Mr Trump denied. Instead, he insisted the executive order was about "countries that have tremendous terror".

"You're looking at people that come in, in many cases, in some cases with evil intentions. I don't want that," he said. "They're ISIS (Islamic State). They're coming under false pretence. I don't want that."

When asked why only certain countries would be included, Mr Trump said it would be "extreme vetting in all cases".

"We are excluding certain countries. But for other countries we're gonna have extreme vetting," Mr Trump said. "It's going to be very hard to come in. Right now it's very easy to come in. It's gonna be very, very hard. I don't want terror in this country."

Mr Muir also asked Mr Trump if he was concerned this move would spark anger in Muslim countries.

"There's plenty of anger right now," the President said. "How can you have more?

"The world is a mess. The world is as angry as it gets. What? You think this is gonna cause a little more anger? The world is an angry place."