It's time to change that. Pinterest is a social network that users often visit specifically to gather information about potential purchases: 93 percent of Pinners use the platform to plan purchases, and 87 percent of Pinners have already made a purchase after seeing a product on the platform.
Why your business should advertise on Pinterest
Pinterest's internal data shows that Pinners who see Pinterest ads have 40 percent greater awareness of new products and 50 percent higher purchase intent than Pinners who have not.
3 types of Pinterest ads aligned to your business goals
Pinterest ads, known as Promoted Pins, are essentially regular Pins that you promote to more people by paying for exposure. Pinterest offers three types of ad campaigns to align with your business goals:
1. Awareness
Awareness campaigns aim to get your business in front of new eyeballs—people who have not heard of your business before, do not really know what you do, or are not already interested in your brand. You pay per 1,000 impressions.
2. Engagement
Engagement campaigns are designed to encourage Pinners to interact with your content within the Pinterest platform by repinning or clicking your Promoted Pins. You pay per engagement action: a closeup, repin, or click.
3. Traffic
Traffic campaigns send people from your Pinterest ads directly to your website, and you pay per click.
The process is the same for creating all three types of Promoted Pins, so let's dive in and get you started on your first Pinterest ad campaign.
How to create a Promoted Pin
Pinterest summarizes the process of creating a Promoted Pin as follows: Get a business account, pick a Pin, decide who sees it, pay for results, and track what's working. Sounds simple, right? But you need a few more details to get your first campaign up and running. Here's your step-by-step Pinterest ads guide.
1. Get a business account and choose your goal
You can convert an existing Pinterest account to a business account, or create a new account to use for your business. Since you can only promote Pins you have already posted to your profile, you need to add some Pins—including those you want to promote—before moving on to the next step.
Then, to create a campaign, click on the + button from your profile and select "Create ad," or go straight to ads.pinterest.com. This is where you select what type of campaign you want to create: awareness, engagement, or traffic.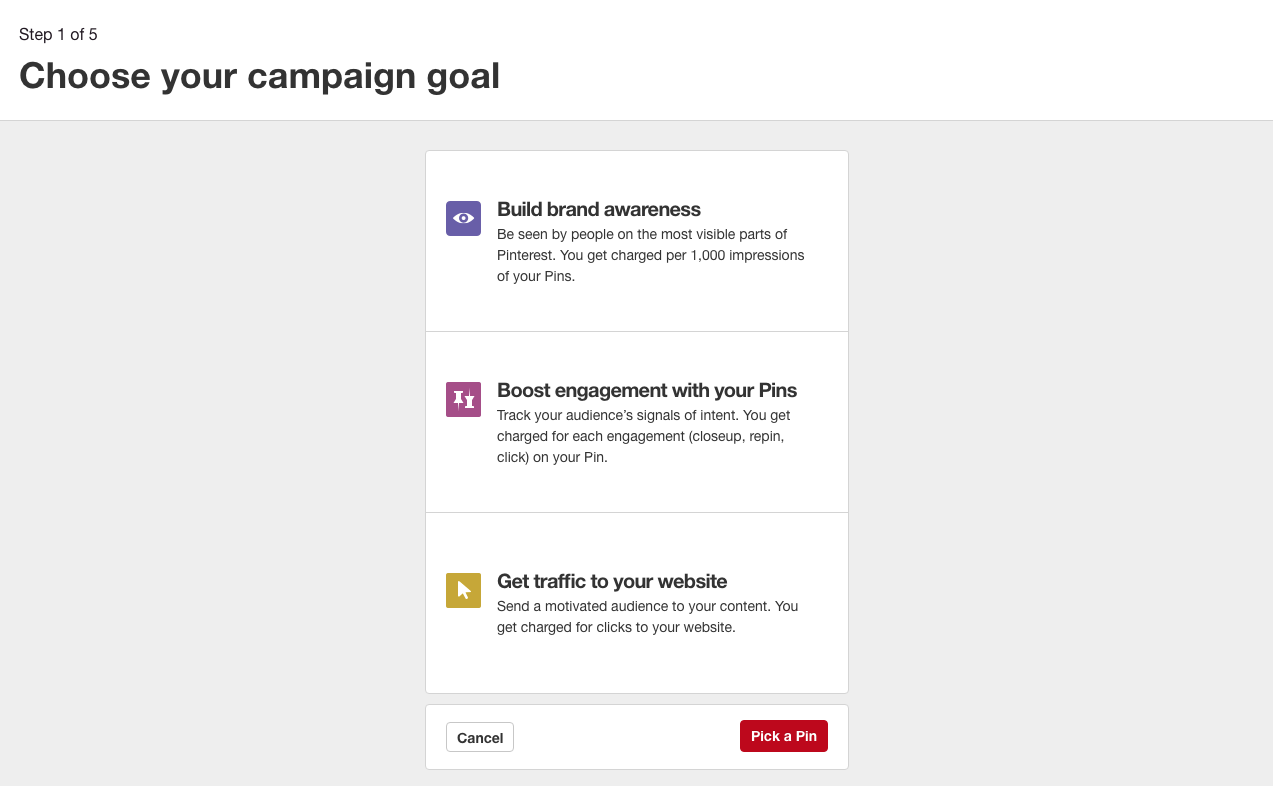 Simply name your campaign, select the start and (optional) end dates, and set your daily budget.
2. Pick your Promoted Pin
If you're not sure exactly which Pin to promote, try using the filters on the "Pick a Pin" screen to see your most clicked and most repinned Pins from the last 30 days. This can give you a sense of what content is already working for your business on Pinterest.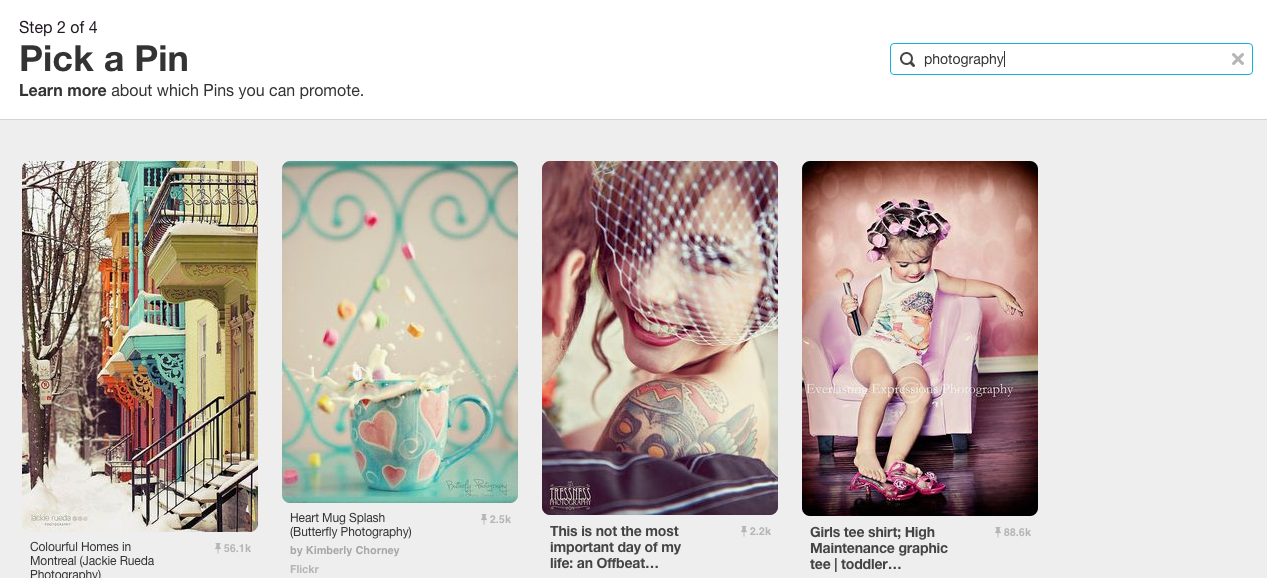 3. Decide who will see your Promoted Pin (and what they see if they click)
The name of the next screen you'll see is "Add more details." This is where you'll choose who sees your Pin (more on that in a moment). But first, you need to determine where on your website you'll send Pinners who click on your promoted Pin.
Think carefully here about how best to maximize the traffic you generate. Link to a page specifically targeted to Pinterest visitors, preferably one that directly corresponds to the Pin they've just clicked. And be sure to use UTM tracking parameters to collect tracking information.
Now, decide who will see your Promoted Pin by choosing your Pinterest ads targeting strategy based on interests (from a list of 420 choices) and keywords. Pinterest will provide recommended keywords based on trending searches relevant to your Pin. You also have the option to manually add keywords or import an existing keyword list.
You can also choose a specific audience: people who have already visited your site or app, existing customers, people who have engaged with Pins that link to your site, or an "actalike" audience that is similar to Pinners who are already engaging with your content.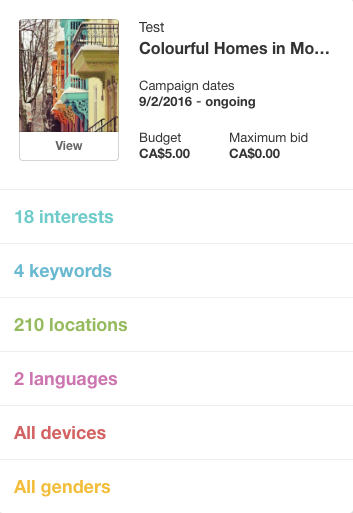 Finally, you can fine-tune who sees your Promoted Pin by using the Pinterest ads targeting options to select specific locations, languages, devices, and genders.
4. Pay for results
Before you leave the "Add more details screen," you'll need to enter your maximum bid. This is the maximum amount you are willing to pay for each desired action on Pinterest.
The interface provides bid guidance and will let you know if your bid is too low, or if it puts you in a good position to compete with other advertisers in your niche. Pinterest uses a "second-price auction model" for ad bids. While that sounds complicated, it just means that you only pay the amount needed to top the next-highest bidder, so you won't be charged your full maximum bid unless it's required.

Review all the information on the right side of your screen to make sure it's correct and click "Next" to send your Promoted Pin for review.
You'll have to wait up to 24 hours for Pinterest to review your Promoted Pin for compliance with its rules for advertisers. In the meantime, you will need to set up your billing details so that there's a payment method available to cover your daily budget once your Promoted Pin is approved.
5. Track what works
Pinterest's conversion tracking allows you to track page visits, sign-ups, purchases, and custom conversions like repins and closeups. To set it up, click on "Conversion tracking" under the Ads menu on your profile, then select the types of conversion you want to track.
Pinterest creates a snippet of code that you can add to your website, just before the closing <body> tag on the page you want to track.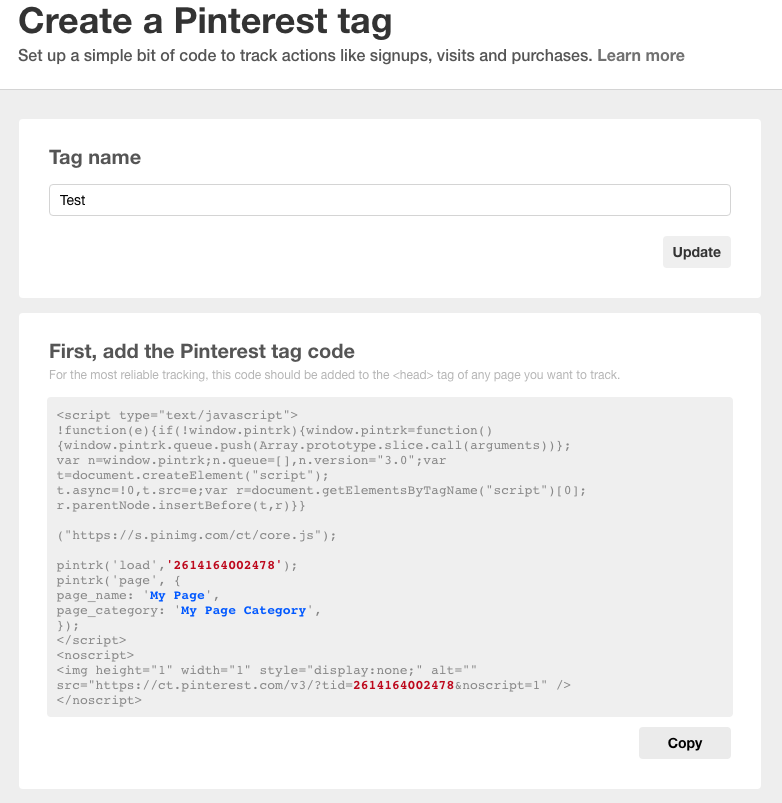 Pinterest ads best practices to maximize your budget
When you're paying to showcase your Pins, you want to make sure they highlight your best brand content. Pinterest, too, has a vested interest in making sure that Promoted Pins are effective and that they don't disrupt the user experience. After all, Pinners who are annoyed with Pinterest ads won't engage with them, which would reduce ad revenue for Pinterest and results for advertisers.
With that in mind, it's a good idea to have a thorough read through Pinterest's advertising standards to make sure you're following the rules and maximizing your ads' chances of success. Here are some key Pinterest ads best practices for all Pinterest advertisers.
Be authentic
Your Pinterest ads should reflect your true brand promise. Pinterest specifically prohibits misleading or exaggerated claims and requires advertisers to be honest and straightforward about what they're advertising and what Pinners can expect from your business both on and off of Pinterest. But you didn't need Pinterest to tell you that's how you should do business, right?
Promote high-quality content
Pinterest encourages advertisers to keep Promoted Pins "beautiful, actionable, and interesting." Since you're paying for your Promoted Pins, they should be some of your best. Pinterest has clear quality standards that prohibit Promoted Pins with, among other flaws, "improper grammar or lots of capitalization and symbols."
Use vertical images
While this is not an advertising requirement, of course, it is a best practice that marketers should keep in mind. Vertical pins (that is, Pins that are portrait-oriented rather than landscape-oriented) take up a lot more screen real estate in the Pinterest results and are therefore more likely to draw Pinners' attention. For mobile views in particular, vertical images appear much larger than horizontal images, which can be cut off or appear too small for users to fully appreciate.
This Pinterest ads guide focused on how to use Promoted Pins to showcase your business on Pinterest, but keep in mind that the platform offers many free ways to help promote your business, too.